Kitchen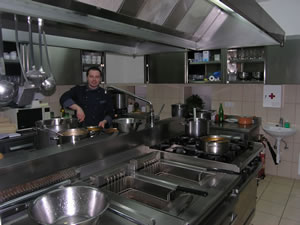 Main food in our lodge is served »on spoon« which is also right and proper in mountains. Visitors can choose; venison goulash served in bread bowl, mushroom broth with buckwheat mush topped with cracklings, barley broth with smoked meat, hill beans, tripe Trieste style, and indispensable iota with smoked meat.
We also prepare other dishes from menu, and on Sunday's family lunches.
For groups we have prepared different menus, adjusted for the event. At customer's request we prepare selected dishes with selected wines
We prepare cold warm buffet or catering to the selected location on Gorjanci.
Every weekend we prepare a surprise for our guests from our offer; Selected weekend offer from our intact local forests.
In this offer we use natural gifts, found in intact Gorjanci.
For every our food and drinks we use crystal clear, rejuvenating spring water Gospodična.
In Spring we make first seasonal food and drinks prepared from ramson, primroses, dandelion, young nettles, sweet woodruff, spruce tips, and then through all year from boletus, chanterelles, elder flowers, wild strowberries, blueberries, oyster mushroom, sheathed woodtuft, wild blackberries, wild cherries, raspberries, sweet chestnuts, the parasol mushrooms..
Because we know that »empty bag« does not stand up, we will do our best for you to go from Gospodična satisfied and pleased, which will make you want to come again and bring your family, friends, dearest people, co-workers or maybe business partners.
Gallery