Restaurant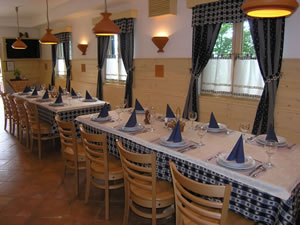 At 828 meters above sea level, far away from the city, you are expected at the highest-lying restaurant in the municipality of Novo mesto. It boasts with 100 seats on the terrace, from one can see across the valley of Novo mesto up to our highest peak Triglav. Inside the lodge we have also 100 seats, combined in two rooms. In one of them you can get warm in the winter by the fireplace and in another you can get warm by glass of one of the 30 types of homemade spirits. In addition to dishes that are presented in the following link kitchen, we also offer a selected drink of which include; elderberry juice, lemonade from clear spring water, Dolenjska specialty Cviček from Trška Gora, Repičan from Bela Krajina and Metliška črnina from Krmačina, organic Refosco from Slovenian Istra.
With us are also welcome large groups of tourists, so you can organize your trip or just a union field trip, birthday, anniversary of high school or school in nature.
In case you stay late in the night we have 34 beds available.
And do not forget to bring along an empty bottle into which you will pure rejuvenating spring water to drink on returning back home. With each drank cup of water you will come back to a peaceful and unspoiled shelter of Gorjanci.
Gallery